About Us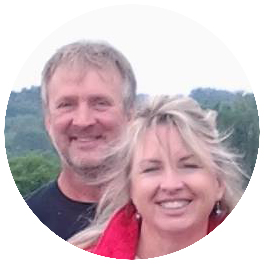 "We've spent most of our
30 years together basically
on a treasure hunt."
Fahrfrumbrkn (far from broken) comes from a desire to make use of items that would have otherwise been discarded or unappreciated. We've spent most of our 30 years together basically on a treasure-hunt. Also, Tom is of German decent and has always had a love for the Volkswagen. We both love the "old" and have loved the many stories behind each and every item we've touched. While on our treasure-hunt we've had our heads down building a stable life for us and our two boys.
Our sons are now grown and it's time for us. We're working on the set-up for allowing ourselves to be creative again. In 2013, we started by purchasing a barn that was going to be leveled. We documented, tagged and numbered every board to dismantle the barn and move it piece by piece to our home.
While working on the first barn we were asked if we were interested in others. Two years later we've dismantled a 50x60 barn (to erect on our property), dismantled 2 smaller barns, dismantled parts of a 1800's home and dismantled several other outbuildings.
During that time we purchased a home built in 1867 (in a historic small town) that needs to be respected and brought back. In addition, we purchased a small store-front building in downtown Anamosa, Iowa which will be the headquarters for Fahrfrumbrkn.
Thank you for your interest in our world and we look forward to bringing you some of our finds, projects and items that need a good home. Happy shopping!
---
Our Products
VINTAGE

CUSTOM-MADE

AUTOMOTIVE
Check out our products in our online store! There is always an excuse to buy more vintage treasures. (Look! The sun came up today, time to go shopping and celebrate!)